Meta Tag Optimization
Meta Tags Optimization Services ensure proper implementation of your meta tag usage!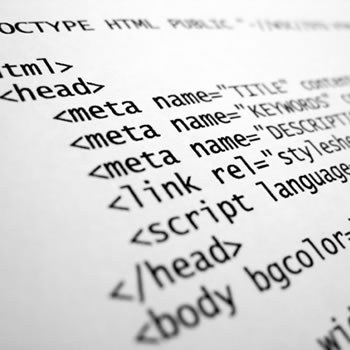 META tags are HTML tags defined in the header area of every web site page created. Meta tags are used to include information about your web page. One big difference between other HTML tags and META tags is that META tags are always placed between the head tags of the HTML page. A wide variety of different META tags are available that you can use to include page-related information, but only three of them, the title, keywords and the description are important from optimization perspective.
All Meta Tags Optimization Services Include:

Website Optimization Analysis and Consultation
Meta Tag Evaluation and Correction (per page)
Website Content Evaluation (per page)
Free Search Engine Submission after Meta Tags Optimization completion.
Meta Tags Optimization Guidelines:
Meta-tags are an important tool for successful search engine marketing as the search engine starts with these criteria in scoring your website for relevancy. Search engines focus on three primary meta-tags to assist them in determining the relevance of a website for a particular search phrase.
The Title Tag is one of the most important meta-tags for a search engine and your potential clientele. The Title Tag should describe exactly what the document contains. It should contain keywords or phrases that you have targeted for that page based on the research of the business demographic that you want be found under. It should also be as readable as possible. You must consider that the Title Tag will be the first thing someone sees if you appear in a search result, as it also generates the "blue link" in the results.
The Description Meta Tag is the secondary tag that accompanies the Title Tag when found through a search engine. The code placed in the title tag generates the summary that will be displayed under the Title Tag when you return as a result. It should be descriptive, but in a summary format and contain the targeted words or phrases in an attractive manor. You have 200 characters that will be displayed.
The Keywords Meta Tag is utilized to list the exact words or phrases that pertain that individual page content and they should have been researched prior to input. It is a request to be included when that search is performed and a request to be scored for relevancy against the individual word or phrases inserted. You have between 500-1000 characters on a per page basis. Each page should contain its own, unique keywords that pertain to the actual content or each. You will be indexed, it is imperative that the exact words or phrases be utilized properly in visible content to achieve a high relevancy score.
Call Today to arrange for your meta tag optimization service quote! Toll Free: (866) 610-6060!
You may also click below to be taken to our contact form and we will call you to discuss your individual needs:


Website Search Optimization and Search Engine Marketing! OurBizSpace Online Marketing offers search engine marketing solutions to e-commerce and Web-based companies, helping site owners build a solid Internet Marketing strategy to promote their businesses in the major search engines. Website Promotion options include Search Engine Optimization and Pay Per Click Management services. Call 1.866.610.6060 to get started today!