Custom Website Search Engine Analysis, Reports & Consultation
Our custom website analysis verses the search scoring criteria gives you the tools and data to make an educated decision on what needs to be done to start your organic search engine optimization.
Contact us today to order your custom website search engine optimization analysis and consultation! Our highly skilled optimization specialist will evaluate and show you what deficiencies need to be corrected in order to achieve maximum search engine relevancy scoring.
Once our analysis is complete will also perform a consultation to cover the findings in detail. Providing you the data, tools and knowledge to make an educated decision on how to move forward with your search engine optimization and marketing efforts.
We also will provide an accurate quote to perform any work necessary. Our quote will be explained in detail and based on data. We do not provide "search engine optimization package" quotes, but instead provide accurate quotes based on your individual website optimization needs.
SEO Analysis Benefits
Knowledge of current deficiencies and errors (knowledge is power!)
Detailed reports on corrections necessary (on average 30-45 pages in length)
Accountability – Oversee Changes (hold staff accountable)
Increased knowledge on website usage, content and implementation
Specialized consultation with professional SEO experts
Marketing guidance specific to your website and industry
A clear path to achieve higher search engine placement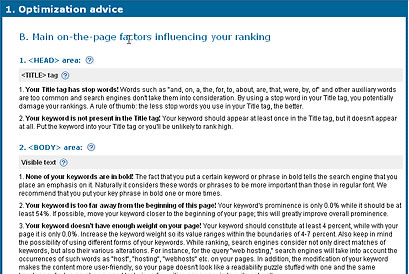 Call Today to order your custom website SEO analysis, reports and consultation! Toll Free: (866) 610-6060!
You may also click below to be taken to our contact form and we will call you to discuss your individual needs:


Website Search Optimization and Search Engine Marketing! OurBizSpace Online Marketing offers search engine marketing solutions to e-commerce and Web-based companies, helping site owners build a solid Internet Marketing strategy to promote their businesses in the major search engines. Website Promotion options include Search Engine Optimization and Pay Per Click Management services, Search Engine Optimization Analysis and more! Call 1.866.610.6060 to get started today!