Competitive Search Engine Analysis, Reports & Consultation!
See how your website compares against the competition.
What is a Competitive Analysis?
A SEO (search engine optimization) competitive analysis is an in-depth review of how your competitors optimize their websites for search engines. Armed with the results of this analysis, you will be able to compete better for some of the same key phrases as well as discover some new ones.
How does a Competitive Analysis assist our business?
Our competitive search optimization analysis will specifically compare your business website verses the top placed websites on Google and/or Bing. In addition, you may specify a competitor website you would like to be measured against! You will gain data on specific areas you need to improve in, assisting in understanding your websites strengths and weaknesses, after which you can target specific areas of improvement.
What is the process, and how do I order?
Contact us today to order your custom competitive search engine optimization analysis, reports and consultation! Call 1.866.610.6060 to get started today and our representatives will ensure we have all the data necessary to get started! Once your order is placed, our highly skilled optimization specialists will evaluate your website versus your competition.
Once the competitive analysis is complete, your receive your detailed findings via e-mail in three separate reports.
Within 48 business hours, an assigned Optimization Specialists will contact you to schedule your consultation to go over the finding in detail. Providing you the data, tools and knowledge to make an educated decision on how to move forward with your search engine optimization and marketing efforts.
We also will provide an accurate quote to perform any work necessary. Our quote will be explained in detail and based on data. We do not provide "search engine optimization package" quotes, but instead provide accurate quotes based on your individual website optimization needs.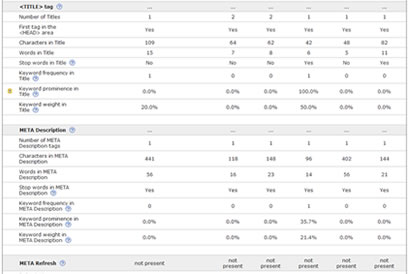 Call Today to order your competitive search engine analysis! Toll Free: (866) 610-6060!
You may also click below to be taken to our contact form and we will call you to discuss your individual needs:


Website Search Optimization and Search Engine Marketing! OurBizSpace Online Marketing offers search engine marketing solutions to e-commerce and Web-based companies, helping site owners build a solid Internet Marketing strategy to promote their businesses in the major search engines. Website Promotion options include Search Engine Optimization and Pay Per Click Management services, Search Engine Optimization Analysis and more!