Pay-Per-Click & Sponsored Advertisement Campaign Management
Increase the return on every dollar spent with real time management!
PPC (pay per click marketing) is the fastest and most controllable way to get your website to the top of the search results when people are looking for your type of business. Our services are custom created based on your goals and can include the management of sponsored ads across the major marketing platforms including Google Adwords, Bing Ads, Facebook Ads, Twitter Ads and more!
Pay-Per-Click Management Services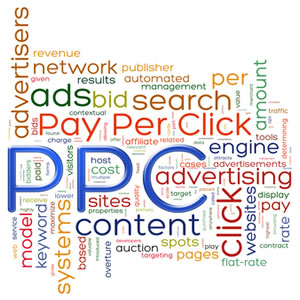 PPC (pay per click) account management is an important part of any internet marketing campaign. With this in mind, our management services include:
Set up your account with specified search engines
Keyword Discovery and Selection
Allocated monthly funding to given accounts based on projected return on investment
Monitor bid amounts to ensure no over payment or under bidding
Custom and Targeted Ad Text Creation
Help with Optimizing Landing Pages
Conversion Tracking
Ad Submission
PPC Monitoring
PPC Cost Management
Campaign Improvement Modification
Re-Targeting (upon request)
Notification of budget restraints
Pay-Per-Click Management Pricing
Pay Per Click Management fees can not be quoted until a free consultation is performed to understand your goals. It is imperative to the success of your program and our on-going relationship that we understand all the goals of your company / internet marketing strategies prior to offering any pricing.
Call Today to arrange for your Pay-Per-Click Management services quote! Toll Free: (866) 610-6060!
You may also click next to be taken to our contact form and we will call you to discuss your individual needs:


Website Search Optimization and Search Engine Marketing! OurBizSpace Online Marketing offers search engine marketing solutions to e-commerce and Web-based companies, helping site owners build a solid Internet Marketing strategy to promote their businesses in the major search engines. Website Promotion options include Search Engine Optimization and Pay Per Click Management services. Call 1.866.610.6060 to get started today!